Thank you for visiting CuttingLight.com and its newly renovated web site. We now offer a much easier way to get in touch with us, and a much easier way to browse what we have to offer to you!


PCB
We offer sand blasting [right] to our customers. As laser engraving is easier and faster than standard sand blasting, we have associated most of our business to it, although we do still offer the sand blasting as a part of our services.
We are a small family owned business operated and owned in Milton, WA. We offer many other types of products aside from just glass, stone and wood. These are just some examples of what we do because what we really want, is for you to contact us with your ideas! We can do just about anything your heart desires. When you give us a direction to step in, we are willing to learn about it to make it happen. We want you to come up with the ideas. If you want a product to have a logo etched into its exterior, we can do it!
Laser Engraving
NEW PRODUCT!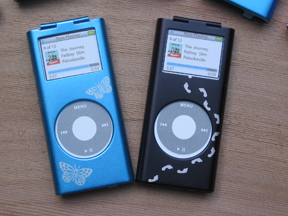 We have found iPod cases that will fit the iPod Nano that we can engrave. Keeping your original iPod unharmed. We can also engrave your iPod if you are looking for a long term, lifetime etching. This process is easy to manipulate your iPod and will not be time consuming on your behalf. We can do Text and Images to your iPod / iPod Case. The focus of our work here is anodized aluminum, as the surface can be etched away easily leaving a permanent mark on items such as: Flashlights, Knives, Coffee Mugs, Key Chains, Dog Tags, iPod Cases (both sides) and anything else anodized that your heart desires to have a permanent mark.
We offer high quality, vectored, laser engraving onto many surfaces, such as Printed Circuit Boards, Glass, Stone and Wood. All of which we have found a large variety of material to use. We have dedicated years of experience to find new ways to manipulate these wonderful environments. All of which show up differently depending on the environment you wish to use.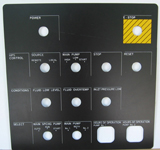 Labeling
If it is Glass you want, then your image will be "Black & White" by standard on our computers, but will look like a "printed" material on glass face. We can do text, images, logos or anything else you may have in mind to associate to family, friends or even businesses!
Engraved Text & Images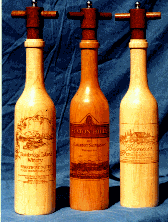 If it is Wood you want, then your image will look somewhat burned into your profiled environment. An example of this is our most popular wood item, the CuttingLight Pepper mill! Our sales since we started making them have skyrocketed in the past few months, only because our customers have referred us to many businesses, family and friends. In the year of 2002, we created a Pepper mill for the Emeril Lagasse show, known as Emeril Live! on Food Network. We also have many other products to offer, so visit our many galleries that can be accessed via the menu at the top of our page.
Stone products are also nice if you want to add a touch to your fish tank or front yard. We do laser engraving and sand blasting of this natural substance. We can laser engrave and sand blast nearly all stone product. This includes and is summarized into a few different things. We can engrave rocks, countertops, marble and other surfaces that have rounded and flattened edges. Like the rock to the right, there are many things we can do to a rock. Even a rounded rock such as this can have engraved and sand blasted to put text and image, as if to make a small sanctuary for a loved one or family pet.
Labeling is another fine service we offer. We have templates, wood and plastic available so far, that we use to put your name onto material to mark. An example of this is being worked on but let us describe it to you. We use an oblong, almost puzzle piece shaped piece of low density wood and mark it with our engraver. We can produce a very clean, smooth image or text onto the wood leaving a remarkable badge to wear at work so that employees or customers better recognize who you are. They are durable in nature and cost effective if you are considering passing them out at parties or gatherings. You can also use these labels as name tags, Christmas gifts on the outside of presents or even as picture frames.
A customer came in and wanted us to engrave foot prints on a wooden picture frame. It was quite simple to bend the provided image around the picture frame and it looked quite nice. There are many ideas out there for many projects you may want to do. Maybe you want that special Christmas gift to be personal and you want to put a more permanent signature on the item. Maybe even dedicate it to them by having their name engraved on it.

Laser Cut Pieces and Engraved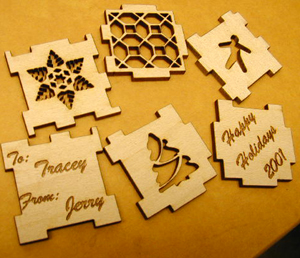 As you visit our galleries, please keep in mind that our resources are only here because you, our customer, have given us these ideas. If you have an idea for us, let us know!
We strive at CuttingLight to keep up to date with our customers. We do our best to keep our product shiny and clean to give you what you want for a visual stimulation. We can make your dreams come true with the friendly environment we provide at our office. If you would like to learn more, or just see some of our work that we haven't posted, make an appointment with us and come see what we have to offer!
Also a distributor of Rill Gourmet Soups. Want to know about Our Selection?
We are local distributors for Rill's Specialty Foods gourmet soups. These prepackaged mixes are easy to make wonderful soups and very tasty. You can buy one or several, for yourself or make a gift basket.